IB Middle Years Programme
What is the IB Middle Years Programme (MYP)?
The MYP is the IB's educational programme designed for students in Grades 6 to 10. It provides a framework of learning that encourages students to become creative, critical and reflective global citizens. The MYP encourages students to make connections between their studies and the real world through the use of Global Contexts. It fosters the development of skills for communication, intercultural understanding and global engagement; qualities that we believe are essential for life in the 21st century.
The style of teaching within the MYP is inquiry-based, building on an approach that our students are familiar with from their experiences in primary school with the International Primary Curriculum (IPC). It also prepares students to meet the academic challenges of the IB Diploma Programme in Grades 11 and 12.
Why do we teach the MYP at the ABC?
We made the decision in 2020 to switch to the IB MYP after much reflection and research. Before making the change, we asked ourselves two key questions: 
1) Which curriculum in Grades 6-10  would best prepare our students for success in the IB Diploma and for the challenges of life and learning after school?
2) Which curriculum would best support our passionate commitment to our AC Mission and Values?
We wholeheartedly decided that the answer was the MYP
According to a study produced by the IBO in 2015, students who study the MYP Programme are up to 20% more likely to engage with higher order thinking skills than students studying other curriculums. They also achieve, on average, 2 points higher in their IB Diploma
IB Middle Years Programme around the world
MYP School In El salvador
MYP School in Central America
How does the MYP prepare your children for the world?
The MYP places great importance on the idea of encouraging students to make connections between their subjects and the real world.It is therefore designed around 6 Global Contexts, which are:
Identities and relationships: Who am I? Who are we?
Orientation in space and time: What is the meaning of 'where' and 'when'?
Personal and cultural expression: What is the nature and purpose of creative expression?
Scientific and technical innovation: How do we understand the worlds in which we live?
Globalization and sustainability: How is everything connected?
Fairness and development: What are the consequences of our common humanity?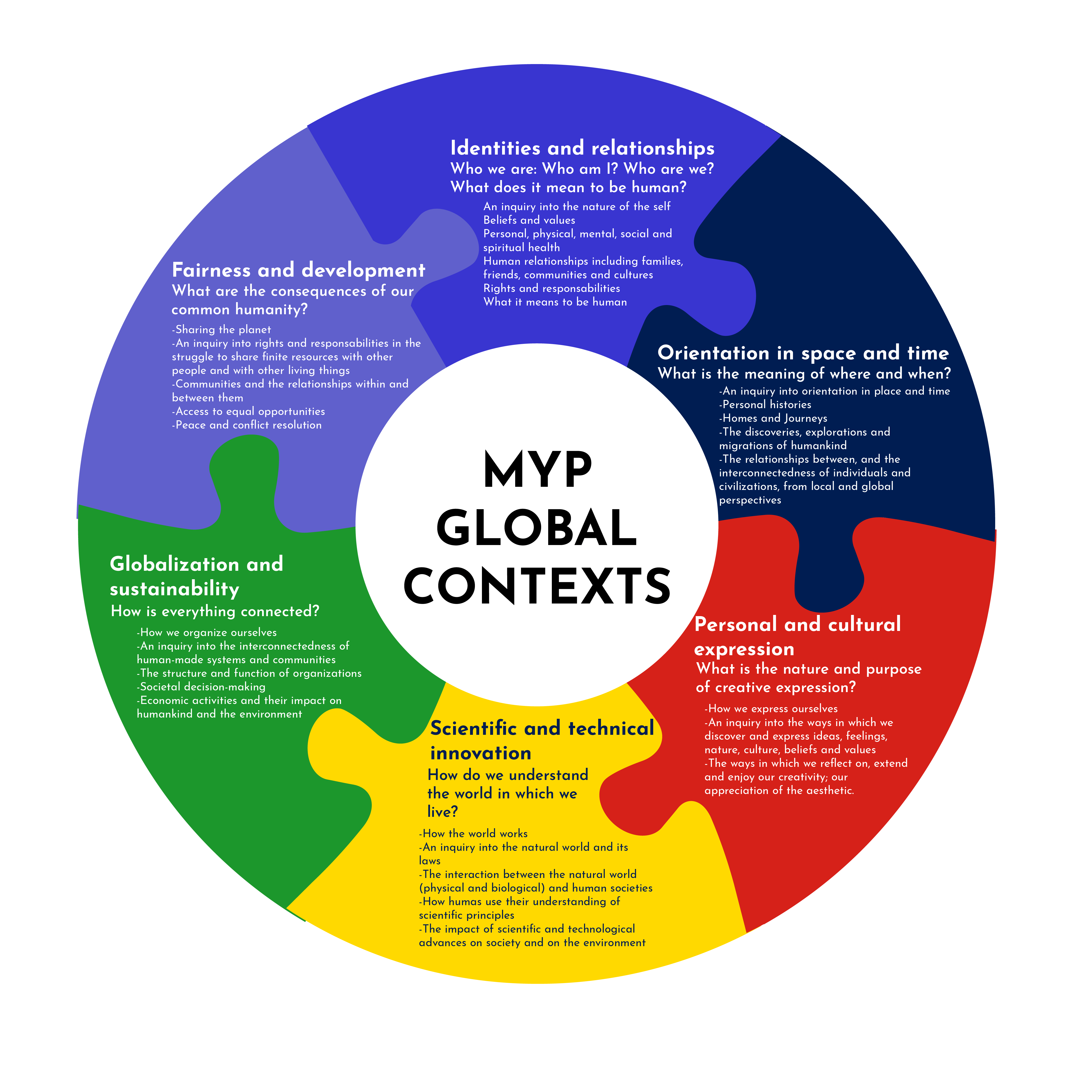 The IB's programmes are different from other curricula because they:

Encourage students of all ages to think critically and challenge assumptions.
Develop independently of government and national systems, incorporating quality practice from research and our global community of schools.

Encourage students of all ages to consider both local and global contexts.

Develop multilingual students.